Our Track Record Speaks for Itself
In over two decades of business, Brazos Paving has worked on numerous commercial, educational, and local and state government projects. In the past four years we have produced over 55 Million dollars in revenue without any liquidated damages or failure to complete work. All while preforming normally 90% of the work with our own forces.
Brazos Paving also has the advantage of being employee owned and we have found this to be one of our largest assets. Because every employee has stock in the company's ability to succeed, every employee from the General Superintendent to the concrete formers strive to deliver the best possible work in the most productive manner. This is one of the reasons that over 80% of our work is from repeat customers.
Along with ensuring customer satisfaction on every construction project, Brazos Paving prides itself on the ability to work efficiently and safely. As a member of The Associated General Contractors of America we take every step to ensure patrons, sub-contractors, and our employees stay out of harms way. This starts with proper training , weekly safety meetings, and OSHA certification classes. Along with these and other precautionary steps Brazos Paving has obtained an EMR of .65 and only three lost time accidents in the past seven years.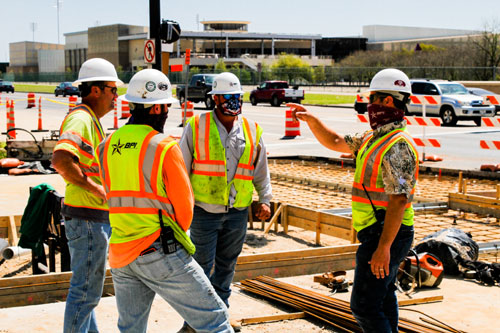 General Contractors We Have Worked With